A few weeks ago I realized that my crock pot crock was cracked clear through. I knew that it was time to buy a new one. I have been doing research to find just what I wanted. I figured I would have this one for a while since it was replacing the one I've had for 20 years!
I considered buying one that had 3 different size interchangeable crocks (2 qt, 4 qt and 6 qt) as I liked the flexibility of the different sizes. It would operate on low, high or warm setting for all 3 crock sizes. It was like getting 3 for the price of one. As tempting as that was, what I realized was I really could benefit from a programmable crock pot. I am gone about 10 hours each day and sometimes my crock pot recipes would get a little over done even on low leaving it on that many hours.
One of my work colleagues said she had one that she really liked. It has a retractable cord, cool touch exterior and a lock in place lid so it is convenient to take it with you. And it doesn't have a ceramic/pottery insert. . .it's a non-stick metal insert. She has been amused by all the research I have been doing on crock pots, so she emailed me a picture of hers and a description. Today, she even sent me a link to the manufacturers website.
I love that it has multiple pre-programmed settings on it. You can adjust the cook time and temperature as needed, and once it completes the cooking cycle, it automatically will switch to the warm mode. Now that was speaking my language!
I stopped on my way home and made my purchase! I got home, washed that puppy up and then ran a 30 minute cycle with water to make sure it was operating properly.
I couldn't wait to try it out, so here is what I put in the crock pot to cook overnight. That was an accident. . .Oops. I meant to have it all prepared in a gallon size
Ziploc
bag to place in the crock in the morning, but silly me, I added the diet soda to it while I was prepping it. Now, if you have never tried this before, I will tell you. . .You can't add the soda to the prepped ingredients the night before! It will explode in your refrigerator due to the carbonation.
As soon as I poured it in I realized what I had done, so I had no choice but cook the recipe overnight. Oh, well. . .I think I know what I will be having for lunch now!
Chipotle Pork Roast with Potatoes
prep time: 5 minutes ~ cook time: 8 hours
makes: 8 servings ~ WW PP: 6 points
Ingredients:
3 pound pork roast
1 - 7 oz can of chipotle peppers in adobo sauce (blended until smooth) - use 3 Tbsp
1 3/4 pound potatoes (2 large potatoes), peeled and cut into 1 inch cubes
2 Tbsp dried parsley
1 tsp dried dill
1 Tbsp minced garlic powder
1/2 tsp dried basil
1/2 tsp black
pepper
1 tsp salt
1/8 cup dried powdered milk
1 - 20 oz. bottle of diet Dr. Pepper
Directions:
1.
Place roast into crock pot and arrange potatoes around the roast.
2. In a small bowl, m
ix 3 Tbsp of chipotle pepper mixture with seasonings and powdered milk.
3. Add the Dr. Pepper and mix well.
4. Pour over the meat and potatoes.
5. Cook at low power for 8 hours.
Just add a vegetable or salad on the side, and your meal is ready. I love the slightly spicy taste that the chipotle in adobo provides to the meat and potatoes. With only 6 PP for the recipe, this is a winner in my book!
*note - I used an immersion blender to blend the chiptole in adobo sauce. A food processor or blender would also work fine. I also used a crock pot liner so there would be less mess to clean up. I love those things!
Here is a picture of the programmable front.
Here is a picture of the box in case you are in the market for a new slow cooker!
Recipe shared on: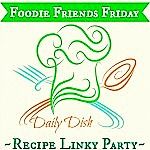 LABELS